Education Through Music helping children receive music programs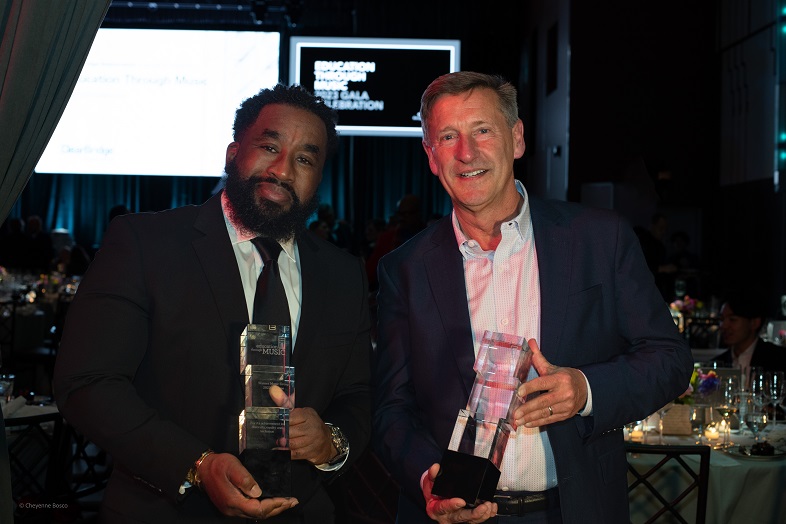 Education Through Music (ETM)  celebrated its 31st Annual Benefit Gala on Wednesday, March 29, 2023, at the Ziegfeld Ballroom. The gala was attended by nearly 400 people, raised over $650,000, and was emceed by musician and fashion entrepreneur Andy Hilfiger. The gala honored: Google, accepted by Paul Darrah, Director of Workplace Design and Delivery, Google Americas, and Warner Music Group accepted by Chris Atlas, Executive Vice President, East Coast Operations & Urban Music at Warner Records.
The program began with the upbeat entrance by over 80 choral students and 20 bucket drummers participating from several of the 63 partner school districts in the ETM program. The kids joyfully performed "We Won't Stop Dreaming" by PINKZEBRA and "Sing!" by Pentatonix arranged by Mac Huff. Andy Hilfiger, a lifelong musician and former head of Celebrity Marketing for Tommy Hilfiger, joined the All Hallow's Rock Band, a performance group of seven seniors from the ETM High School program.
"For the past three decades Education Through Music has been doing something truly noteworthy and transforming: advancing educational equity in the nation's largest school system and improving outcomes for New York City's children in the most disadvantaged communities," said Dr. Janice Weinman, CEO, Education Through Music. "Understanding the positive and influential impact music learning has on students is the reason we have existed for over 30 years. Music stimulates the mind. Elevates joy in learning and increases self-confidence. We have seen our programs and dedicated teachers unlock, inspire, and empower thousands of kids over the years."

"As a musician myself, I know what it takes to perform. What an organization like Education Through Music offers is simply the opportunity for our kids to explore a part of themselves that otherwise would have been left unrecognized and silent. Through music lessons and access to proper instrumentation, the children of ETM have the chance to find their voice, their sound, their note in this world," said Hilfiger.

In his acceptance speech on behalf of Google, Darrah commented, "Music education is important for underserved kids in New York City. It's an opportunity for them to step outside of the traditional classroom and get to experience the passion, excitement, and energy of music. It connects to mathematics and all of the things they're learning and puts it in a place where they can relate and bring it outside of the classroom. ETM's mission is an amazing contribution to New York City."

Atlas, accepting the award on behalf of Warner Music said in his speech, "I'm thrilled to be here to represent my colleagues and accept this wonderful honor from Education Through Music. We're excited to extend our partnership with Education Through Music to ensure music education is a core subject for children throughout the U.S., helping to configure classrooms, bring in music teachers, develop band and orchestra ensembles, and create a unique curriculum to help young people use music to build their own self-esteem."